Carol L. Robinson has presented and published works on Deaf culture literature and drama, narrative film and film theory, video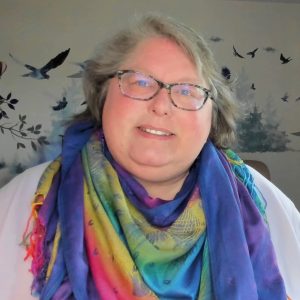 game history and narrative studies, adaptation theory, medievalism(s),Geoffrey Chaucer's Wife of Bath, medieval Arthurian literature, and medieval drama.
Her documentary film, Listening to You, Listening to Me, Listening to Everyone (Deafness, Community Theatre, Communication, Medieval Studies, Medievalism, Audism, Sexism, and Conflict Resolution)  premiered in 2011 and has now become part of a larger project about four play productions done in ASL and English by communities of both hearing and deaf/hard-of-hearing individuals (http://houndingproductions.org/everyone/).
Born in Milwaukee, Wisconsin, she grew up in several places in the Great Lakes region, moving from Wisconsin to Illinois, from Illinois to Ohio, from Ohio back to Illinois, and from Illinois back to Wisconsin.  She earned her B.A. in English Composition, with certification to teach K-8th grade, from Beloit College in 1984.  She earned her M.A. (medieval studies and film studies), passing her exams "with Distinction" from the University of Georgia in 1988.  She earned her Ph.D. in English (medieval studies & literary theory and cinematic history and theory) from the University of Georgia in 1994.
WORK: teaching courses, some fully online and others fully on-land for Kent State University Trumbull.  Retired professional storyteller.
SKILLS: Photography, cinematography, Final Cut Pro, Adobe Photo Shop, HTML-5, CSS-3, JavaScript, Dream Weaver, Moodle, WordPress, Distance Education.
HOBBIES: gardening, landscaping, collecting marbles, collecting bottles, finger weaving, sculpting, photography, painting, storytelling.